Meeting T. Boon Pickens
by Liz Peveto, artist on 6/5/2007 7:16:55 AM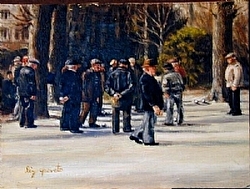 Games Gentlemen Play

Last night I was invited to attend an event at Southwestern Medical School to honor Mr. Pickens. He gave the school a donation of $50 million to grow for 50 years. They cannot touch the principle, but can use the interest collected by that principal and must also grow it by 10 in the 50 years it is in their care or it will go to Oklahoma State University in Stillwater, OK. It is highly unlikely to not collect the 100 million during that 50 years because the caretakers are motivated to see that it will serve the school very well. Mr. Paul Bass said he thought they would reach their goal in just 25 years.
Mr. Pickens is 79 years old, but looks much younger to match his wife Madeline. They are a generous couple with high ideals for the future of this country. May he have a long life to tell the stories his interesting life has provided him.
There were very distinguished guest there to honor Mr. Pickens and the school. What a nice event for a Monday evening on the 14th floor of the Southwestern Medical School Research Building, now named Pickens Building.
The 14th floor offers a clear view of downtown Dallas and surrounding areas. As an artist, I wanted to capture the distinquished people there, but also the dramatic view, especially after dark. It was pure poetry in the making. Inspiration is exciting for those who love to create their thoughts in visual art, writing or like Mr. Pickens, inspiring others to make their world grow out of the box it finds itself in today.
liz peveto

P. S. Wishing you an inspiring day to see what we can add good to this world that we live in.